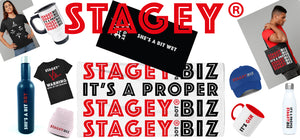 "FOR YOU OR FOR THE DIVA IN YOUR LIFE"
Onstage, backstage, above, below and in front... it makes no difference, we are all Stageys!
Introducing STAGEY, the first trademarked brand designed specifically for theatre professionals, students and anyone who's ever chasséd past a stage door.
Comprising of STAGEY.BIZ, STAGEY KID, STAGEY BABY and our slightly more irreverent STAGEY BITCH range of products, STAGEY is never one to shun the limelight – he/she needs a product with that extra edge that makes his/her owner stand out in a crowd.
Launched during lockdown in 2020, Stagey is positively frothing with new ideas to add to the collection...
...if she can be bothered.
Love your work.